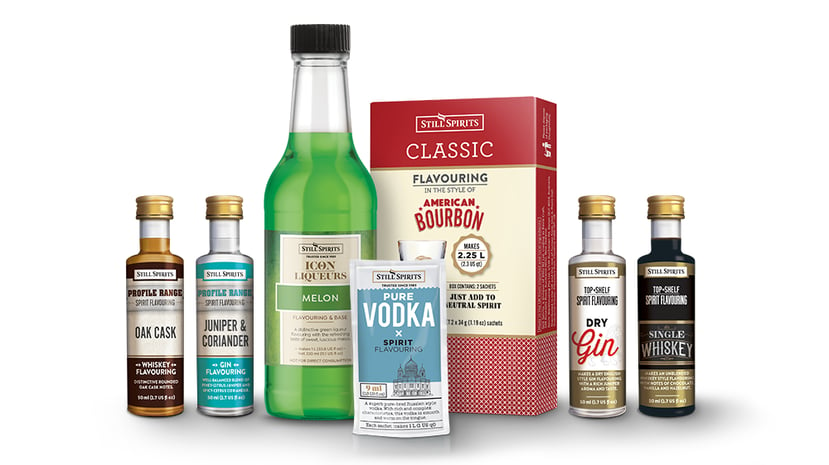 For a home distiller, there are (on a basic level) two routes you can choose to take when it comes to creating your own alcohol. Either you can follow the distillation process from scratch, or you can distil a simple "neutral spirit" (much like vodka) and add Flavourings or "essences" to almost instantly create a spirit that tastes like the end product you are after.
Note: Neutral Spirits are not essential - our Icon Liqueurs Range works well with store-bought vodka and our Just Add Vodka range is specifically designed to be added to store-bought vodka!
It may sound hard to believe that a spirit of drinkable quality could be created in this way, but trust us - it is. At Still Spirits, we have a range of flavourings and essences covering a plethora of tastes, styles and budgets - so we thought it may be helpful to break this down a bit.
Why use Flavourings/Essences?
Simply put, using flavourings is easier and faster than distilling from scratch and is by far more cost-effective than buying your spirits/liqueurs at a retail store.
How do I use Flavourings?

Simply follow the instructions on the product; all this entails is adding the flavouring directly to your spirit in the prescribed quantity and giving it a mix - that's it! Click here to skip to the end for a guide on our entire range of flavourings and the commercial spirits they're inspired by...
Flavouring Profiles
Looking for something a bit more creative than simply adding a flavouring? Well, we have a range of base flavourings and adjuncts that make up the packaged flavourings - giving you everything you need to create your own flavours from scratch!
Our Profile Range contains these flavourings and adjuncts unique to Gin and Whiskey flavours. Looking for a smokier flavour in your whiskey? Add a little Peat Smoke Flavouring. Whiskey needs a bit of bite? Try the Astringent Notes Flavouring for some sharp bitterness. Want a fruitier whiskey? Add some Fruity Esters! You get the picture...

Whiskey Flavouring Profile Kit

We have two kits available in this range - the Whiskey Flavouring Profile Kit, and the Gin Flavouring Craft kit. Each Kit contains all the flavourings and tools you need to create your own Whiskey and Gin flavours - simply by adding to your neutral spirit using the tools and instructions provided.
But wait... What if you'd love to try this but have never distilled before and/or don't have access to neutral spirits? Easy - buy a bottle of plain gin or whiskey and use the profiles to enhance it - a great way to give it a proverbial "go", get your creative juices flowing and hone your tasting/blending skills!
At this point you could even take it one step further by adding our Oak Spirals to give it that "aged in a cask" flavour - the sky's the limit.
Neutral Spirits and Alternatives
Never made a neutral spirit before? No problem - click here to learn how to distil. Not planning on making your own neutral spirits? Again, no problem - our Icon Liqueurs range (although designed with neutral spirits in mind) work very well with store-bought vodka. Simply add the flavouring as prescribed and voila - you're done! Alternatively, see our Just Add Vodka range - flavourings specifically designed to be added to store-bought vodka!

---
So where do you go from here? Below we'll recap some of our ranges for you:
Ready for the fun part? Use the chart below to find which flavouring to use based on your favourite commercially available Spirit or Liqueur!