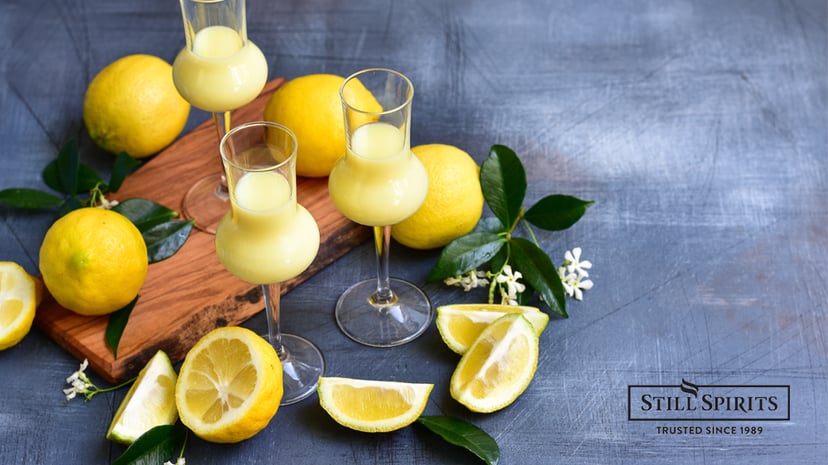 Learn to make Limoncello at home with this easy recipe, using neutral spirits or vodka combined with store-bought ingredients!
Makes: 1 L
Preparation Time: 30 mins

Note: Final ABV will vary depending on ABV of neutral spirit used.
YOU WILL NEED:
8 Lemons
500 ml (25 US fl oz) Homemade or store-bought neutral spirit or vodka (80-95%)
500 ml Water (if your tap water tastes OK, it should be fine, otherwise use spring water)
3/4 cup (150 g/5.3 oz) White Sugar
Coffee Filter (optional)
1 L Bottle (or smaller bottles equal to 1 liter, for storage in the freezer)
750 ml Jar (or a jar large enough to add 500 ml neutral spirit and lemon peels)
INSTRUCTIONS:
Peel 8 lemons - try not to get too much of the white pith as this will make it bitter.
Combine the lemon peel with 500 ml (25 US fl oz) neutral spirit in a 750ml jar. Seal and steep for at least 4 days at room temperature, out of direct sunlight. (Leaving it longer will make for a stronger flavour.)
In a saucepan, stir 1 cup (250mL) of water with 3/4 cup (150g) white sugar over medium heat until the sugar dissolves. Set aside to cool.
Sterilise a 1 L bottle by running it underwater so it is wet before placing in the microwave, on high power, for 1 minute. Be careful about removing it as it will be very hot.
Carefully pour your jar contents into a bottle (through a mesh filter or coffee filter if possible) leaving the lemon peels behind.
Pour the sugar syrup into your bottle, your 500 ml of clean water, seal, and gently shake to mix.
Place your bottle in the freezer and enjoy when cold! Limoncello is best served straight from the freezer in a shot glass or with ice and sparkling water or tonic.